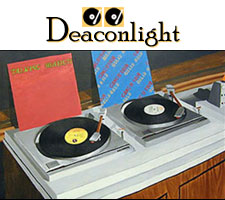 Noon ET/9am PT/5pm London
Jan. 20, 2007 - May 2, 2013
on ErrorFM Radio
View Latest Playlist
2 May 2013
Free Internet Radio at ErrorFM.com and iTunes Radio
RIP 2002-2013
Classic & Current Contemporary Non-Schlock-Rock Metropolitan Music
Deaconlight Rock Radio and Music Archives
Faye Hunter's Friends Sing "What is Life?" in Her Honor
My hubby recorded a group of us singing this George Harrison song for Faye outside of Mitch Easter's Fidelitorium recording studio in the evening after her memorial service. I tweaked the audio and added a few visuals so there's something to look at besides specks of light. The video's far from perfect, but the experience definitely was.
RIP Faye Hunter
My friend Faye Hunter died over the weekend. I got to know Faye through Mitch Easter when they formed their band Let's Active back in the early 80s with drummer Sara Rombweber.
Faye played bass and sang for the pop trio. Their EP Afoot and LP Cyprus were released on IRS Records under the guidance of Keith Altamore.
The last time I talked to Faye was at the Winston-Salem Centennial Celebration in May 2013, where she performed some Let's Active songs with the Vagabond Saints Society. She looked fabulous and sounded great. She mentioned wanting to go stay at my beach house this fall.
I was shocked to hear Faye had committed suicide, although I was aware of situations beyond her control that were causing her great dispair. David Menconi mercifully wrote an article about Faye last night as the buzz was flying around social media. It includes an interview with Faye's and my good friend Jamie K. Sims.
Anyone who knew Faye will tell you what a sweet, caring, wonderful person she was. She brought a lot of light and happiness to this world, and may she rest in peace.
DD Thornton - July 22, 2013
News & Tributes for Faye Hunter