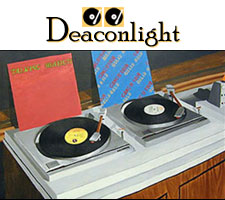 Classic & Current Contemporary Non-Schlock-Rock Metropolitan Music
The AP Tour
Fall 2011 AP Tour Lineup & Dates
Four Year Strong
Gallows
Title Fight
The Swellers
Sharks
October 17, 2011 -- (DD Thornton, Deaconlight) -- Our bearded buddies Four Year Strong move up to the top spot in the fall 2011 Alternative Press Tour lineup. Punk rockers Gallows are also along for the ride with Title Fight, The Swellers, and Sharks. Tour dates are below, as well as lineups from previous AP Tours.
Don't confuse this rockin' band Gallows with another band with the same name. Years ago on eMusic I downloaded what I thought was the kick-ass band I saw at Warped Tour, and it turned out to be a bunch of guys that sounded like Jimmy Buffet wannabes. That's not THIS band.
10/18/2011 -- Clifton Park, NY - Northern Lights
10/19/2011 -- New Haven, CT - Toad's Place
10/20/2011 -- Montreal, Canada - La Tulipe
10/21/2011 -- Toronto, Canada - Phoenix Concert Theatre
10/22/2011 -- Columbus, OH - Newport Music Hall
10/23/2011 -- Pontiac, MI - Crofoot
10/25/2011 -- Milwaukee, WI - Rave Ballroom
10/26/2011 -- Chicago, IL - Metro
10/27/2011 -- St Paul, MN - Station 4
10/28/2011 -- Kansas City, MO - The Beaumont Club
10/29/2011 -- Denver, CO - The Summit Music Hall
10/31/2011 -- Boise, ID - Knitting Factory Concert House
11/01/2011 -- Seattle, WA - El Corazon
11/02/2011 -- Portland, OR - Hawthorne Theater
11/04/2011 -- San Francisco, CA - The Regency Ballroom
11/05/2011 -- West Hollywood, CA - House of Blues- Sunset Strip
11/06/2011 -- San Diego, CA - Soma
11/08/2011 -- Pomona, CA - The Glass House
11/09/2011 -- Mesa, AZ - The Nile
11/11/2011 -- San Antonio, TX - White Rabbit
11/12/2011 -- Dallas, TX - House of Blues
11/13/2011 -- Houston, TX - Warehouse Live
11/15/2011 -- Orlando, FL - beacham theatre
11/16/2011 -- Fort Lauderdale, FL - Culture Room
11/17/2011 -- St Petersburg, FL - State Theatre
11/18/2011 -- Atlanta, GA - The Masquerade
11/19/2011 -- Charlotte, NC - Amos' Southend Music Hall
11/20/2011 -- Norfolk, VA - The Norva
11/22/2011 -- New York, NY - Irving Plaza
11/23/2011 -- Sayreville, NJ - Starland Ballroom
11/25/2011 -- Pittsburgh, PA - Altar Bar
11/26/2011 -- Cleveland, OH - House of Blues
2011 AP Spring Tour Lineup
Black Veil Brides
Destroy Rebuild Until God Shows
I See Stars
Versaemerge
Conditions
2010 AP Tour Fall Ball Lineup
Bring Me the Horizon
August Burns Red
Emarosa
Polar Bear Club
This is Hell
The AP Tour Spring 2010 Lineup
NeverShoutNever
Hey Monday
The Cab
Every Avenue
The Summer Set
The AP Tour Fall Ball 2009 Lineup
I ended up having to listen to this show outside the venue (Amos Southend, Charlotte). I had paid for a ticket but because something got screwed up with my press pass, Amos wouldn't let me in with my laptop. I didn't want to leave my gear in the car. I ended up sitting outside only to discover the battery in my laptop was dead, so I couldn't even get any work done.
I was mainly there to see The Academy Is.... I had met William Beckett and Adam T. Siska (Sisky Business) a few times before (including an interview in 2008) and made a CD of power pop songs for them. Turns out as soon as TAI finished their set, William walked outside straight at me, which gave me the opportunity to give him the CD. It had stuff like Big Star, The Replacements, and The Records on it. William noticed there were a couple of Squeeze songs on there and mentioned he really liked Squeeze.
Later Sisky and I chatted. He noted he still had my business card in my wallet. But I was tired and not too chatty at that point. It wasn't long before the masses of teenies showed up, so I decided to remove myself form the crowd.
-- 2009 (DD Thornton)
The Academy Is...
Mayday Parade
Set Your Goals
The Secret Handshake
You Me at Six
AP Tour - Spring 2009 Lineup
3OH!3, The Maine, and Family Force 5 took turns headlining the 2009 Alternative Press Tour. Also on the bill were Hit The Lights and A Rocket to the Moon.
3OH!3
The Maine
Family Force 5
Hit The Lights
A Rocket To The Moon
Previous AP Tour bands include All Time Low, Forever The Sickest Kids, The Matches, Sonny, and The Rocket Summer in 2008, and Cute Is What We Aim For, From First To Last, and Circa Survive in 2007.
AP Tour Links