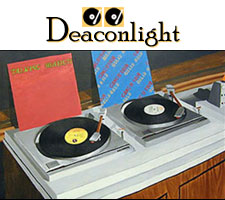 Wednesday Deaconlight - 23 May 2007
9:00am PT/Noon ET/16:00 GMT
Open My Eyes - Nazz: Nazz


No Pussy Blues - Grinderman: Grinderman
Cowboy Bob - Butthole Surfers: Psychic...Powerless...Another Man's Sac
Stranger on the Town - The Damned: Strawberries


Brainstorm - Arctic Monkeys: Favourite Worst Nightmare
Dashboard - Modest Mouse: We Were Dead Before the Ship Even Sank
You're Crashing, But You're No Wave - Fall Out Boy: Infinity on High


The Lovecats - The Cure: Japanese Whispers [played 12-inch single - extended version]
Container Drivers - The Fall



10:00am PT/1:00pm ET/17:00 GMT




Body Count's in the House - Body Count: Body Count
Lunchbox - Marilyn Manson: Portrait of an American Family
Angels - Peter Holsapple and Chris Stamey
Don't Do What I Did - Continental Drifters: Vermillion
Bangkok - Alex Chilton: Lost Decade [also on Stuff]
O My Soul - Big Star: Radio City
The Letter - The Box Tops: The Letter/Neon Rainbow


Gimme Shelter - Patti Smith: Twelve
White Van - Brain Donor: Brain Donor
S.I.B. (Swelling Itching Brain) - Devo: Duty Now for the Future



11:00am PT/2:00pm ET/18:00 GMT




My Idea of Fun - The Stooges: The Weirdness
Plump - Hole: Live Through This
Dismantle Me - The Distillers: Coral Fang
Sing Remember Me - James Bilagody and the Cremains: Sacred Stage


Knights of Cydonia - Muse: Black Holes & Revelations
The March of the Black Queen - Queen: Queen II
Cross-eyed Mary - Jethro Tull: Aqualung
Faster Disco - Faith No More: Introduce Yourself


Time Bomb - Rancid: And Out Came the Wolves
Chihuahua - Bow Wow Wow: See Jungle! See Jungle! Go Join Your Gang, Yeah, City All Over! Go Ape Crazy!