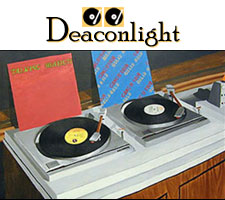 Noon ET/9am PT/5pm London
Jan. 20, 2007 - May 2, 2013
on ErrorFM Radio
View Latest Playlist
2 May 2013
Free Internet Radio at ErrorFM.com and iTunes Radio
RIP 2002-2013
Classic & Current Contemporary Non-Schlock-Rock Metropolitan Music
DD Thornton's Radio Playlists: 1977 - 2012
Deaconlight Radio Show at Internet Radio Station ErrorFM
Tune in at ErrorFM.com. You can also pick us up on iTunes Radio under Genre: Alternative Rock. ErrorFM is part of the Backyard Party Radio Network. ErrorFM has several music channels including ErrorFM LIVE, ErrorFM Music, Rockzilla. Deaconlight is on ErrorFM LIVE weekdays. Friday is our "lighter" show — Deaconlight Lite — which airs on both channels.
Sometimes Deaconlight radio shows are re-runs. Below are links to all our ErrorFM Internet Radio Station playlists.
Deaconlight at WFDD 88.5 FM
"Vintage" Deaconlight was a student-programmed radio show at Wake Forest Radio station WFDD 88.5 FM from the 1940s until the early 1980s. In its last decade, Deaconlight was a highly-regarded late-night rock and roll program that had become a regional favorite of music fans. The last rock and roll Deaconlight program was Sunday, December 27, 1981.
More about the history of Deaconlight, WFDD, and Wake Forest University radio is a WakeForestRadio.com.
New Generation Show at WKZL
The "New Generation Show" ran on Sunday evenings on WKZL 107.5 FM in Winston-Salem, NC, in the first part of the 1980s. At the time WKZL was a classic rock station that didn't play much in the way of newer, younger bands of the time. The NewGen show was the one place on the station where people could turn in to hear cutting-edge music. You can find out more at the WKZL Wikipedia page.
Try This at Z-93
"Try This" was similar to WKZL's "New Generation Show." It was on Sunday evenings from 8:00-10:00 at WSEZ (known then as Z-93) in Winston-Salem, NC. We don't have shows posted online. Not sure where the paper copies are.