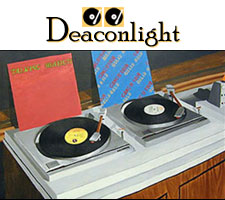 E-mail Received 6/23/2004 from John Leslie
I'm afraid that I might come across as some sort of 'fan boy,' but I sure hope that's not the case. Around six months ago, I did an Internet search and came up with nothing. I believe I searched for "Dee Dee Thornton". This time, I broadened my search with different spellings. As to Deaconlight, I'm not sure who was on the air, but the first memorable song was "Why Don't You Try Killing Yourself." [Editor's Note: Referenced song is "Why Don't You Kill Yourself" by the Only Ones.] Though it wasn't exactly my type of song, it sure beat the hell out of hearing the same songs from Boston, 38 Special, Kansas, Styx, Van Halen etc...
It's amazing that after twenty years, how certain things will stick in ones mind. I remember you dedicating the song "Single Records" (By A&B) to your dogs of the same name. [Editor's Note: Referenced song is "A/B" by Telex.] To this day, I can't listen to the Dickies or the Vapors without expecting to hear them back-to-back (a trademark which you carried on to WKZL).
I suppose that our late teens can still be impressionable times. Something you did on WKZL really made quite an impression. You had a promo interview LP from (I think) Tom Waits [Editor's Note: Yes, it was Tom Waits.] You went on the air stating that this LP was intended for DJ's to cue up as though they were actually doing the interview. Instead, you simply stated the theme surrounding each of his responses. While other jocks were trying to pose, you were straightforward and I always thought that was real cool. I later got into broadcasting and you could say that your persona had quite an impression on me. I can't say that I really respect what has happened to radio (or perhaps it was an eye-opening experience). I got into the business in 1988 and out the next year. Though it was a small-town station, you can rest assured that upon my last day, Belmont, NC, got its earful Jason and the (Nashville) Scorchers!
Hoping that I don't sound like a 40s stereotype (glorifying the "good 'ole days"), but there was something special about the music that pre-dated MTV. I'm sure you've listened to commercial radio's definition of "retro '80s music." The "alternative" music doesn't seem to go beyond that of those that had a video.
When the news broke about Deaconlight coming to an end, I made about ten cassettes of your show. Unfortunately, I left these at a friend's house and the next day, they were nowhere to be found. Through the years, I believe I picked up about 70% of what was on those tapes. I have cut-out bins and used record stores to thank for this. I think, other than me, no one in the town of Concord, NC, was going to buy an LP from Gang Of Four or The Undertones etc... Lucky me bought many of these (even 8-tracks) for $1.00 each. I think it was the mid-to-late '80s that I had a talk with Randy Burke (of the Naked Ramblers). At that time, he mentioned having copies of your show. The last time I saw him was during his music performance in the mid-'90s.
Years ago, I did a zine. Wish I had copies to spare, but I'm down to one copy of each. We were able to interview the Cramps, Man or Astroman, Kevin Seconds, Link Wray, among others. Within the next six months, I hope start this up again. Because of your experience with WFDD and WKZL, I was wondering if you'd be interested in talking about the politics and/or anything else related, or receiving an e-mail interview. As a kid in the early '70s, I remember writing down songs heard off the radio. I had learned the hard way that some of these songs I might never hear again. It's too bad that (in the late '70s early '80s) many of the songs which prompted me to scroll to the left end of the dial, are now the very "classic rock" songs which never seemed to have left the commercial rock format.
These days, I've been listening to a lot of '60s garage music. I think there's something really unique about the teen angst recorded with little-to-no overdubs. As to the music you played, I listened to WFDD for months, but one night I knew that I could no longer listen to WROQ/WBCY (Charlotte radio) the same. It was a set in which you played "I Don't Know What to Do with My Life"(Buzzcocks), "I'm in Love" (dB's) and Is That Love (Squeeze). I also enjoyed your theme sets too - Insect Set ("Human Fly" - The Cramps, "Halo of Flies" - Alice Cooper),[Editor's Note: Also "Ants Invasion" by Adam and the Ants.] Military Set: ("Ivan Meets GI Joe (Clash)," "Armalite Rifle (Gang of Four)". [Editor's Note: Also "He'd Send in the Army" by Gang of Four.] I used to play those Deaconlight cassettes over and over.
Okay, I confess, I guess I do come across as some sort of fan boy... gulp! You have to keep in mind that as a teenager living in a small town of typical jacked-up Camaros sporting the latest RnR Flavor of the month group, that Deaconlight was a dose of sanity. The first time I heard Gang of Four, I hated them! Since that point, they became one of my favorite bands. As to some of my Deaconlight favorites, I would have to mention Klark Kent, The Specials, Wall Of Voodoo, Fashion, The Specials, The Cosmopolitans, and others which will come to mind after this e-mail is sent. Around the time of WKZL, I was exposed to the Right Profile - "Let's Pretend" and "Dancing Under Streetlights" (The Brains) (two of my all time favorites).
Though the zine will probably not go into print for another six months, I would really love to do an article with you. I promise that it will not come across in a 'hero-worship' type manner (as this e-mail may have appeared). I'm pleased to see that you still have an interest in Deaconlight. I can't believe it's been over twenty years! Hope life is treating you well.