1948 Dedication Ceremony for Radio Station WAKE
On behalf of Wake Forest College, I am glad to welcome to the campus and community W-A-K-E. I do this because I am aware of the potential value of this most recent addition to our facilities for entertainment and educational purposes.
Dr. Thurman D. Kitchin
Wake Forest College President from 1930 to 1950
April 19, 1948 WAKE Radio Dedication Broadcast
On April 19, 1948, Wake Forest College officially announced the establishment of radio station WAKE on the campus in Wake Forest, North Carolina. Attending were Wake Forest College president , Dr. Thurman D. Kitchin, Dean D. B. Bryan ('33), WFU Student Body President Horace "Dagwood" Kornegay ('47, JD '49), and the mayor of the town of Wake Forest, William Royal.
Wake Forest student Roland "Woody" Woodward ('50), WAKE's Chief Announcer, hosted the event. The station's faculty advisor, Dr. Marc Lovelace was unable to attend. Therefore, Mr. Woodward read a letter during the event written by Dr. Lovelace, who referred to the new radio station as "The Voice of Wake Forest."
Wake Forest Radio Stories - Classes of 1940s-1950s
Julian Burroughs ('51)
Some Memories Of The Early Years At WFDD
By Jack Thomas, Station Manager 1951-52
I transferred from a Chicago school to Wake Forest College in 1949. Right away I became interested in the operations of WFDD. Having done some studies in electronics previously, I started doing equipment setups for the broadcast of baseball games, both at home and on the road. Lines were permanently installed running from the on-campus sports facilities back to the main studios, which were housed in a small building between the football stadium and the gymnasium, along the street where Dean Bryan's home was located. (The station had previously been located in the press box at the football stadium.)
We leased lines from the telephone company to send our game coverage from off-campus locations back to the campus. Once when we were doing a game from Rocky Mount, I noticed that the remote amplifier was not getting any power, and had to search along under the bleachers until I found where someone had pulled the power plug from its receptacle. On another occasion, a tube in the remote amplifier shorted out, and the telephone company engineer who was monitoring the signal feed amplified the feeble output up to broadcast level, but he took his meter out of the circuit lest the signal suddenly return to normal strength and blow out his equipment.
What had begun as a five-watt signal radiating from a wire strung from a rooming house window out into the trees, had grown to 50 watt level by 1949. It had actually been stronger than that before the Federal Communications Commission required that the signal strength be reduced. The little student-built transmitter was in the back room of the station, and was linked directly, through a large capacitor, to a high voltage line that terminated at a transformer on a pole just outside the window.
Radio station WRAL in Raleigh also befriended us. With their permission, we tuned into their signal on an FM receiver mounted in our console, and rebroadcast some of their news programs to the WFDD audience. The station manager in Raleigh asked that we please not "sell" the programs (get local sponsors for them), as that would be running direct competition with the Raleigh station.
I became one of the disc jockeys, then assistant station manager, and then manager for the 1951-52 academic year. By then WFDD had been accepted as a regular "publication" and had offices on publications row in the student center. Dr. Marc Lovelace was our faculty advisor and a consistent booster. WFDD was a member of the Intercollegiate Broadcasting System, a loose affiliation of campus stations across the country.
We also started using a transcription service, either from Broadcast Music Inc. (BMI) or the American Society of Composers, Authors and Publishers (ASCAP), I'm not sure which. Periodically we received large 33 1/3 discs of various kinds of music, as well as scripts to use with certain sound tracks. I remember one program about the Indian woman Sacagawea who accompanied the Lewis and Clark expedition. As classmates from the English Department read the script, I located the musical accompaniment, and I remember how good it felt to be bringing in the music right on time. We were actually putting on a professional broadcast!
The college yearbook for 1952 was late coming out, and some of the photographs of managers, editors, etc. were not included. Researchers in future years will not be able to verify my connection with WFDD in 1951-52 if they use the yearbook as their resource. I graduated in June, 1952, and got married that same month. My new wife and I lived in a small trailer just off campus during the summer of 1952. She and I went over to the Wake Forest Baptist Church on Sundays, turned on the amplifier that was permanently installed there, and then walked along the route of the telephone line strung through the magnolia trees back down to the WFDD studios. We put the station on the air so that people throughout the community could hear the church service. Then we closed the station down, turned off the amplifier, and went about our own lives. At the end of the summer we moved to Seattle, Washington, where I had accepted a job with Boeing Airplane Company.
In all the intervening years, I have remembered my association with WFDD with great fondness, and I'm grateful for this opportunity to share just a bit of what it was like during those early times.
-- Jack Thomas (age 75), Asheville, NC, May 2, 2004
John Brock ('54)
Filmmaker, Columnist, Writer, Educator
I don't know if I could be considered a product of WFDD or not but I remained close to communications. I was in the class of 1954 but quit school to join the army to catch the tail end of the Korean thing. It was about twenty-five years later before I went back to Mars Hill College and finished my undergraduate degree and then on to graduate school at UNC-Charlotte. Before I left WFU (College at the time), I finished the English major with emphasis on Speech and Drama, which was the closest the college had to a communications degree in that day.
In the meantime, I was a newspaper editor and publisher of a chain of small newspapers for which I had acquired interest and/or ownership. At age 24, I was featured in the Publisher's Auxiliary as the youngest newspaper editor in the nation.
I ultimately left newspaper publishing for other enterprises including a few years as a feature-length motion picture producer, etc. I decided at age 50 to go back to school and wound up spending twelve of my retirement years as vice-president of the university and professor in the communications department at Gardner-Webb University. After another retirement, I spent a year as vice president of Mars Hill College. Now, I'm just an old guy who writes a weekly column for South Carolina's oldest newspaper. The column is also picked up by several Charleston, SC area newspapers.
Not much radio in my career but I did produce some national television commercials, training tapes and documentaries, etc. I did an afternoon radio news show from my editorial offices for a couple of years. Oh! I forgot. I was spokesman once for the Freedoms Foundation at Valley Forge for an ABC radio network production.
WFDD operated from the old barracks building in 52-54 when I was host for the Deaconlite Serenade a couple of nights a week. About the only thing I remember about the experience was that I about froze to death during the wintertime in the lamely heated building. The station was a current carrier system and the signal faded at the city limits of the town of Wake Forest.
-- Posted 2003
---
Dick Gordon ('54)
Bill Crawford I operated the station the summer of 1951 on the Olde Sod. I'm not sure anyone listened. It was only on at night and we were "required" to play certain transcriptions that nobody wanted to hear. After those, we played music. The station was only on at night, and we had no help.
-- Posted 2003
---
Betty Holliday Bowman ('54)
---
Moses Mahaley ('54)
Comments from John Brock ('54) 11/19/2004:
I noticed that you have Moses Mahaley on your list. He was better known as "Steve". Steve and I were childhood friends in Charlotte but did not see much of each other in later life. We got reacquainted when he was at the UNC hospital as a neurosurgeon. He went to medical school after Wake Forest. He became a world renowned brain surgeon but sadly and ironically died six or eight years ago with a brain tumor. His death notice was posted around the world. Steve served as chair of the departments of neurology at Duke, UNC and Univ. of Alabama and was widely regarded as a premier physician.
Before Wake Forest, Steve attended UNC-Charlotte before it became part of the NC University system and was a two-year school known as Charlotte College. He was honored as Alumnus of the Year at UNC-Charlotte a few years before he died.
---
Wiley Mitchell ('53, JD '54)
Attorney and Three-Time Virginia State Senator
In a sense WFDD helped pay my way through law school at Wake Forest in the early 50s as a result of my role as Chief Announcer. When the Korean War began, many professional announcers at the commercial stations were World War II veterans in the reserves who were called to active duty. This resulted in many stations having an overnight shortage of experienced announcers.
WNAO, a Raleigh station, called to see if WFDD had anyone with experience who was would work on a part-time basis as an announcer. I volunteered, and for the next two and a half years, I worked as an announcer on weekends, holidays, and whenever else I was needed. I did news programs, read commercials, worked as a disc jockey, and operated the control board when no engineer was available. The pay wasn't anything to write home about, but it helped keep me in law school until I graduated in 1954.
When I graduated from law school, I joined a Raleigh law firm that was state counsel for the Southern Railway Company. It was my good fortune to be asked to handle the railroad business for the firm and I was soon trying railroad lawsuits all over eastern North Carolina. Some six years later, after I had become a partner in the firm, the railroad offered me a job as a staff attorney in its Law Department in Washington, with responsibility for litigation nationwide. In l984, the Southern Railway Company and the Norfolk and Western Railway Company joined to form the Norfolk Southern Corporation. I stayed in Washington until 1989, when the Law Department was moved to Roanoke, and the following year to Norfolk. I retired as Senior General Counsel in April of 2001 and joined the Norfolk law firm of Willcox and Savage that same month. I still practice law with that firm.
While I was working in Washington, I lived in Alexandria, Virginia. In 1967, I was elected to the Alexandria City Council, the first Republican ever elected to public office in that city. I was reelected twice and served for six years as vice-mayor. In 1975 I was elected to the Virginia State Senate, representing Alexandria and parts of Fairfax County. After serving for 14 years, including 6 years as minority floor leader, I resigned in 1989 when my employment with Norfolk Southern required me to move from my district. I have been and remain active in a wide variety of civic, professional and community organizations, including serving as national president of the National Association of Railroad Trial Counsel, as a state trustee of the Nature Conservancy, and as chairman of the Boyd Graves conference of the Virginia Bar Association.
-- Posted 2003
---
Taylor Sanford ('54)
---
Dave McKee ('56)
Like Vern Pike, I worked in the "boondocks" at the old campus station in 54-55 and 55-56 having transferred from Mars Hill. The station was located near the "married" couples' housing apartments. We used the local power lines for our antennae and once one of the wives told me she could hear us on her bathtub faucet!!
It was great fun. I did a lot of the sports "play-by- play" broadcasts including football, baseball, and basketball. (Once we tried to do a track meet. It was a flop!) I also did the first basketball game played at the new campus before they actually moved there in the fall of '57.
I also hosted an evening show called "TELL-O-QUEST" that was, again like Vern, aimed at the dorms. Our theme shong was "String of Pearls" by Tommy Dorsey Orchestra:" NOW, FOR BILLIE JEAN FROM JOHN B., HERE'S NAT KING COLE'S "TOO YOUNG."
Lucky Strike, who provided the teletype machine, sponsored all the news. Often a delivery man would bring us a case of cigarettes, free for nothing (I never learned to like cigs. Stuck with my pipe and cigars!!).
After graduation in May '56, I moved to Henderson NC and went to work at WHVH and later to WHNC. I married a young lady and moved back to Belton, SC, and took a job with WANS in Anderson, SC, and later at WHPB in Belton. I spent a total of 12 years in radio altogether, including WFDD. I'd do it again!
-- Posted 2003
---
Yulan Washburn ('56) and Dolly Brock Washburn ('56)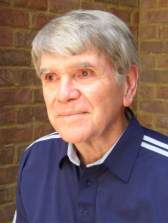 I was copy editor (as well as disk jockey) for the station 1954-56, writing commercials for Francis Grill, etc., and working with Dolly Brock, the girl I was to marry and still am married to.
I am now a professor emeritus of modern foreign languages at the Univ. of Tennessee in Knoxville, still teaching part-time. That training at WFDD has really stuck with me all my life, especially since it got me a terrific partner for life.
We were so primitive in those days--it would be a treat to see what the station is like nowadays. I hope you still provide life partners.
-- Posted 2003
More About Yulan Washburn
Yulan is an author whose latest book is "To Dream Like God." It is the true story of a college professor who spends many years as an atheist. He goes on a quest for the God he is certain does not exist.
The wild vitality of the Amazon rain forest and the waiting rooms of American hospitals teach him the surprising lesson that God is the One Who finds the seeker, and not vice versa.
-- Updated June 19, 2005
Anne Beatty Oakman ('57)
---
John Hasty ('57)
Attorney
I was a DJ for what I believe was the first country/blue grass program for the station. It included occasional live performances by me and I had to furnish my own 45 RPM records. I ended up with the legal specialty of representing TV stations, radio stations, and newspapers along with the various First Amendment issues which they face. I have an understanding of how on-air talent thinks of the importance of their job, and can appreciate what they do.
-- Posted 2003
---
Jay Ketchie ('57)
It has been quite a few years since I worked on WFDD - 1953-1957. It was in that small frame station on the edge of the Wake campus in old Wake Forest. I was a DJ and Program Director and worked for 4 and 1/2 years. I helped open the new station in W-S and can remember doing sports events hanging off the roof of the Student Center(?). We almost got kicked out of school that year for recording Baptist State Meeting and playing it on the air (on campus only at that time). Great memories.
-- Posted 11/20/2003
---
Tally Roberts ('57)
The reflections below were submitted by Tally's wife Diane after the 10/25/03 reunion.
Tally and I would like to thank you guys for the reunion of WFDD folks. We had such a good time. What a joy to have all this history revealed all at one time by the voices that were there all through the years. It was a revelation, too!!! How in the world did Burroughs survive all those goings-on?!
In reflection, wasn't it interesting to hear how simple the station was in the early years to hear how it has now grown. Tally was the second to speak, and I used to hear how much fun he had on the old campus in 1955-56 at WFDD when we were dating (I was at Meredith). He has always cherished those days and his involvement taught him so very much to aid him in his life through the years and today. It seemed everyone in that room Saturday night could agree with that thought.
An interesting observation or two: in that whole room, except for the females present, it was on the whole a motley group, all in various stages of aging and what it does to one. Isn't that what radio is all about? To think how every participating person in that reunion had had that opportunity to develop their personality and their talents, regardless of their duties with the station, and not be necessarily the most glamorous soul on the campus! I would bet that even the furthermost removed individual now from radio left Wake with never-before-discovered and developed talents that have been useful throughout their entire lives. I know that is true in my husband's case.
Also, wasn't it fascinating to hear from year to year how the complexity of working at the radio station increased with time. From just "having fun" with the eldest there, moving the station to a new campus and gearing up with a clothes hangar hung out the window, to taking the station to relay ballgames and events of note and concerts that are probably unforgettable. All the folks used creativity, whether in programming or stringing wire all over the campus or just being there for the occasion. It was hilarious to hear it all, but amazing that they could really accomplish the deeds.
Recall that in the 70s how they had to deal with people hopped up on drugs when they called in to Deaconlight, and had to play counselor during the call. That showed that maybe miracles were happening. Through the years, the chores each had and relished became more complicated and important, bringing the station to what it is today. This is atypical of how all our lives have progressed. I thought there would be a rocking chair on the porch for my present days, but that appears maybe twenty years removed from now, if ever. So it seems with those present at the reunion. We are challenged to the enth degree nowadays. It is a survival of the fittest, but all there have under their belt experiences that will carry them forward to the death.
As for our memories, when we were married before the start at the new campus in 1956-57, we were inseparable. I spent a lot of time with him at the station, and at the end of that year as he graduated, the workers split up the pot of earnings from the advertising that he sold. That is how we bought our first washing machine. Thank goodness! Back then, that wasn't much.
-- Posted 10/28/2003
---
Dorothy Braddock Preslar ('58)
I played a very small part in the station from 54-57 with a weekly program on fashion (of all things!!). I recall that I signed off with this "When dressing in the latest style wear one more thing: a friendly smile." At least I got that part right.
I enjoyed doing it and learning how to splice audio tape with Scotch tape and cueing a vinyl and getting to know Vern Pike and others whose names now escape me.
---
Tom Bunn ('58)
When Wake Forest moved from Wake Forest to Winston-Salem in 1956, the fate of the station was uncertain. Beverly Barge (I'm not absolutely sure about the name) and his brother had previously run the station. They were in the same fraternity as I was, and I became interested in moving the station because I had had an interest in "ham radio" and had some understanding of radio engineering.
Deciding to take on the job, I contacted Louis Parrish who was an engineer for WOR in New York. Lou had built a radio station in my home town, Wendell (about 16 miles from the old campus). I spent some time with Lou in New York learning from him how to engineer the station at the new campus. Lou also helped me purchase some used broadcast equipment.
At the old campus, the station had nice Gates control panel, but it had a limited number of inputs. I bought a used RCA board through Lou in New York. This board had been used to produce the ORIGINAL stereo broadcasts done in New York by WOR. To accomplish that, the board had been rewired so that one channel of audio ran through the "program" side of the board, and the other ran through the "audition" side of the board.
The designer of the studio space at the new campus had not provided adequate means of running microphone wiring for the control room, so I designed and constructed a platform several inches high, and on that platform, designed and constructed a console upon which to place the RCA board and two turntables. The microphone wires and other wiring was routed through the area underneath the platform.
I actually lived in the studios that summer to do the necessary construction.
Lou had specified that a professional set up would require every input and every output to run through a jack panel, so that was set up in the control room. This allowed the flexibility to run any output (mike, recorder, turntable, phone line feed) into any input.
In order to finance some professional tape recorders, I came up with the idea of doing a weekly PR program, promoting Wake Forest. I proposed to the college (it was not a university then) that we send out a weekly show on tape to radio stations around the state and country about events at Wake Forest, and asked that we be provided money for two Ampex 15" reel to reel professional recorders.
We put the original Gates board in the smallest studio to use for production of that show while we simultaneously ran regular broadcasting through the main control room.
I spent the summer along with Bill Blackwell and sometimes others constructing the station. By fall it was ready to go, but what about transmitters? The old transmitter used at the old campus had evolved over the years, and no one knew much about its operation.
Lou suggested we purchase a low power FM transmitter and serve - not just the campus - but the local community, and offered to donate one to the college. Up until that time, the station manager and the business manager of WFDD were allowed to share the income from ads on the station. The college provided a small yearly fund for basic operation. I contacted the Bursar, proposing that, in order to do FM which had to be commercial-free, instead of having the station manager and business manager receive advertisement money, that the school provide enough money to run the station commercial-free, and I and the business manager would do the work for free.
The Bursar would not hear of it, so this mean that the ultimate destiny of the station, to serve the community as it does now, was delayed for several years.
It also meant we had to deal with the original transmitter.
The original operation at the old campus was "carrier current" which mean the output of the transmitter was fed through capacitors into the power lines in the town of Wake Forest. This worked, sort of . . . As the power lines went around town, the interaction of the signal on one power line with another caused areas of no reception and areas where there was reception with a hum, and areas of good reception.
But we decided to try to use the original transmitter. How? The power for each dorm was separated in a way that one transmitter could not feed in at one place and be distributed. So we decided to try running the RF through telephone lines from the studio into each dorm, and couple the RF into the power system of each dorm.
That worked, but there was a problem. There was an individual who will not be named who had wanted to be business manager but was not chosen. One night, when he was the only person running the programming, he claimed he had gotten a call from the FCC that our transmitter was being heard miles away from the campus and was therefore violating federal law, and that we would have to shut down operations or face enforcement action.
It was not realized at the time that this "report" was a fabrication on the part of the disgruntled individual. So, I contacted an engineer at WSJS, "Tink" Kanoy. He and I designed and built several (five I think), low power (about five watts each) transmitters.
I used the term "design" loosely, because what we actually did was to plagiarize some of the circuitry of a certain unnamed manufacturer's design. In producing RF, the "first stage" of a transmitter is basically a very low power transmitter which is "amplified" by the "second stage." We just lifted the circuitry used for the first stage of the transmitter we had info about, and built five transmitters based on that "first stage" circuitry. One transmitter was placed in each dorm and its low RF run through capacitors into the electrical system of the dorm. We simply ran Speaks at the studio to the transmitter in the dorm, which was much less a problem than running RF through telephone lines, which I'm sure the telephone company would not have thought well of, had they known.
This worked very well, except for the characteristics of "carrier current" which caused areas of spotty reception in the dorms.
Once we had the individual transmitters running in each dorm, we had a pretty good set up. Our control room and studios were, thanks to Lou's help, and the efforts of the WFDD staff that summer of 1956 and that fall, we had the best studios in Winston-Salem.
One of our best moments during the two years I ran the station (1956 - 1958), was when we set about to provide 24-hour broadcasting during exam week. At that time, radio stations signed off around midnight. We bought a Rube Goldberg device called a "Lincoln Changer." The story behind the Lincoln Changer is that a manufacturer of heavy machinery in Lincoln Nebraska was a hi-fi enthusiast. He had his staff design a record changer that would handle about twenty LPs. It held the supply of LPs in a stack. To play one, an arm came over, driven by a hydraulic pump, and placed a suction cup onto the LP, and using suction, picked up the LP, moved it to the turntable area, and placed it, first on one side, and then on the other, and then dropped it in a third area.
This was an amazing device which - sometimes - worked. It just took some tinkering with it to keep it going, but for the most part, we were able to keep the 24-hour music going unattended during the night.
And, had the Bursar been willing to bend a bit, we could have served the community with stereo FM beginning in the fall of 1956 instead of just mono AM in the dorms.
Oh yes, there was one more drama. We had an arrangement with WSJS to send "Deaconlight Serenade" out every night through phone lines to their station to be broadcast all over western North Carolina.
A different DJ did the show each night, Monday through Friday. One night, the show was being run by the 1957-8 station manager (I was business manager that year, but still ran the station). Two announcers named Al and Dave came into the big studio facing the control room. I can't remember the station manager of that year's name, but he later went into radio as a profession. He saw Al and Dave mouthing a microphone and making obscene gestures at him. Being cool, he decided he would play their little game, so after "dedicating" a song to a co-ed, he switched the mike Al and Dave were mouthing onto "audition" to see what they were saying, and say something smart back to them using the intercom. But, unfortunately, he threw the switch to "program" instead of "audition".
As a result, the words "Hello out there all you mother-f*****s" went out over all of western North Carolina through WSJS.
Well, boys and girls, we did get letters. And we had a little meeting down at WSJS with their management. What would be done. The management at WSJS said if Deaconlight Serenade was abruptly taken off the air, it would draw attention, so it would be smarter to simply continue the show and "bury" the incident with further normal activity . . . but the show would from then on be broadcast from the WSJS studios.
That seemed like a good idea, but now we - amateurs - were up against the PROS. At WSJS, the announcer/engineer who ran the board in their control room (we only sat in a studio with a mike), was Dick Curlee.
So we, the five of us who did Deaconlight Serenade from the WSJS studios, had to deal with whatever Dick threw at us. For example, when making an announcement, doing an add, or dedicating a record, instead of hearing your voice normally through the headphones, you would suddenly find your voice coming back at you with a half second delay. Very disconcerting. Dick had taken the audio from your mike, run it into a tape recorder, and then picked up the recorded voice from the audio head a half second later, and fed THAT into your headphones. Wicked!
I can tell you that I really feel proud when I am - even miles away from Winston-Salem - and pick up the station I put together, and know it is serving the community in the way I intended.
Since Wake Forest, I joined the USAF, flew fighters in the Air Force, and then joined Pan Am, later United, and flew airliners all over the world. I now an a licensed psychotherapist and work with people to help them overcome fear of flying. My web site is at www.fearofflying.com.
-- Posted 2003
---
Leon Gatlin ('58)
I worked on WFDD off and on from 1956-58, on the new campus. As I recall, I had a late night DJ program, using Sinatra's "In the Wee Small Hours" as theme. I also recall having to monitor a full recording of "The Messiah" one Easter and, at a moment when the voices are singing "And He shall feed his sheep" I chomped loudly on a pice of celery close to the microphone. I heard one response to that. I am sure there were few listeners, since most people were away.
-- Posted 11/22/2003
---
Vern Pike ('58)