Wake Forest Radio History - 1960s
Vintage Radio Audio From WFDD
"This is WFDD and WFDD-FM beginning broadcast operations for Monday, March 13, 1961. WFDD and WFDD-FM are owned and operated by Wake Forest College. WFDD operates on carrier-current at 650 kilocycles and its signal is limited to the college dormitories. WFDD-FM is licensed by the FCC as a non-commercial, educational station, and operates on the assigned frequency of 88.1 megacycles, with a total power of 10 watts. Studios are located in Reynolda Hall. We invite you to stay tuned throughout the evening to the Voice of Wake Forest College. The time is one minute past seven o'clock."
Jim Mackie ('60)
I grew up in the town of Wake Forest and listened (and made phone requests) to WFDD before I went to WFC on the old campus. Names such as Vern Pike, Sonny Borroughs, Tommy Bunn and others are from the formative years that I listened and worked with WFDD. Watching the Jay Leno show the other night reminded me of when I did "Deaconlight Serenade" from WSJS in W-S, I would to go into the TV control room after I did the 11:05 - 12 midnight show and I would watch Jack Paar. Great memories!
-- Posted October 2004
---
Betty-Bruce Howard Hoover ('61)
I had my own show called "The Betty Bruce Show" with Laura as the theme song. It included oral readings and explications of poetry for about 10-15 minutes once a week during the 1958-59 school year. I don't know of any tapes that exist unless they are in the station files. I worked closely with Dr. Julian Burroughs in putting the programs together, as he was my speech professor that year. It was a special opportunity that he offered me with my own radio show.
-- Posted 2003
---
John Norman ('61)
I was a disc jockey for one of the shows back in 1957-58. I remember collecting 45s on the way to the station with requests for particular songs - most were Johnny Mathis requests such as: "Chances Are" and "Twelfth of Never." We took requests over the phone, too. I would play the records, play the advertisements, and do the announcements myself. We had two turntables and I would get a song or advertisement ready while the other song was playing.
A particularly vivid recollection was during the time of the first civil rights protest where a group of WFU pre-ministerial students along with a group of students from Winston Salem State staged a "sit in" in a Winston Salem establishment. The students were arrested and this stirred quite a debate on campus. Subsequently, when I came to the WFDD station, I found that one of my fellow radio broadcasters was being threatened by a group of 5-6 students who were upset by views presented on his show about this topic. A football player was in the forefront of the group of students and they threatened to beat up the announcer and other civil rights protestors. I tried to calm them down and finally they went back to the dorm without any physical confrontation. Although I was not happy about this confrontation, I was proud that WFU was one of the first universities in the State in admit black students. Also, these civil rights demonstrations were among the first in the State.
-- Posted 2003
---
Pat Williams ('62)
Senior Vice President, NBA Orlando Magic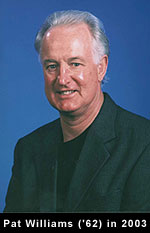 My experiences at WFDD had a huge impact on my entire career. While at Wake Forest I was trying to determine whether I wanted a career in sports administration or sports broadcasting. Dr. Burroughs encouraged me greatly at the station. He allowed me to broadcast the freshman basketball games on the campus station, a first for the team and station. That was my first shot as a play-by-play man. I still have some tapes buried in my archives. Then on Monday nights, I did an hour-long sports show. I lugged my wollensak all over the area rounding up interviews. I taped with such luminaries as Ted Williams, Roger Maris, Bill Sharman, Billy Graham, Arnold Palmer and others. You can't imagine how thrilling that was for me. I think upon my WFDD days with great fondness. Those four years laid the foundation for everything that has happened to me ever since.
-- Posted 2003
---
Ernie Accorsi ('63)
Senior Vice President and General Manager, New York Football Giants
I had a weekly sports show on Monday nights as Sports Director of WFDD in 1962-63. On the Monday night of the Cuban Missile Crisis in October 1962, I was feverishly typing my show right before 7:15 when the host for that hour came up to me.
"What are you doing?" he said.
"I'm writing my show," I said, oblivious of what was about to happen.
"You're not going on the air," he said. "The President is addressing the nation. We may be going to war. Don't you pay attention to anything but sports in this world?"
I was pre-empted by President John F. Kennedy that night.
-- Posted 2003
---
Nick Minton ('63)
I have very fond memories of working at WFDD from about 1961 to 1963 when I graduated. I put together the classical musical programming for WFDD during that time. We signed on with "Evening Concert" every week day from 5 to 7 pm and later cut the two hour time slot back to 90 minutes. I did cue tapes for the announcers who played the selections (mostly LPs and an occasional reel-to-reel tape). I rarely did much live broadcasting for this show.
-- Posted 2003
---
James O. Wells ('60, MD '63)
Physician, Teacher, Writer, Lecturer, Researcher
Web Site: www.jowells.com
I worked at WFDD from 1957-59. In addition to serving as Station Manager from 1958-59, I produced "Inside Deaconland," a weekly show that was distributed to approximately 20 radio stations in the Carolinas and Virginia. It was a 15-minute program for broadcasting campus life news. Bill Smith and I did an intro over the college choir singing the Wake Forest alma mater. The choir hummed the third line while Bill voiced over with an introduction, then the choir came back to finish the song. Each week I would identify something of interest, put the intro on the tape, and fill with about 14 minutes of specific content. The show ended with a similar voice-over the choir. Show topics included guest speakers, interviews, class lectures, chapel activities, choir concerts, and other campus events. -- 2003
---
Elaine Clary Williams ('66) and Gordon Williams ('66)
Gordon had one of the Deaconlight "shifts" and always closed each night of his shift with Andy Williams "May Each Day of Your Life Be a Good Day." I had the "live" news and sports segments on Monday nights and served as station secretary for a couple years. We remember "Tink" well and how he taught us to read the gauges for the transmitter.
-- Posted 2003
Music at Sunset Intro April 20, 1967
WFDD Campus Report - WFDD Increases Power to 36,000 Watts
April 20, 1967
---
Kenneth Martin ('69)
I joined the staff of WFDD in September, 1965, at the beginning of my freshman year. As a classical music fan, I was NOT a candidate for a much-coveted latenight "Deaconlight Serenade" slot, but I did get a shift or two earlier in the evenings. I also worked under News Manager Beverly Beal. I remember that one of my early duties was the live broadcast (from the other end of the hall in Reynolda) of the Student Government sessions.
I don't remember exactly why, but Bev resigned as news director at the end of that fall semester. Suddenly, I was the News Director! Our news was pretty closely confined to campus events, but even that could be interesting. I remember covering the retirement announcement by Dr. Harold Tribble as WFC President and the news conference naming Dr. James Ralph Scales to be his successor. We also got the opportunity to meet some of the notable people who visited campus, such as NBC correspondent Sander Vanocur.
It was during this period that WFDD went from a 10-watt station to a 10,000-watt FM station. Soon we also were broadcasting in stereo. In the process, we got a new studio (installed and maintained by "Tink" Kanoy). At the beginning of my junior year (1967-68), I became the Music Director for the station. I had a hand in planning the music schedule for all the classical music programming, though by this time we actually had a secretary (unimaginable just a few years before) to handle a lot of the routine aspects of the music programming. One of my primary responsibilities was producing a tape every weekday of the announcing for the "flagship" classical music program "Evening Concert." I can still recite the standard opening, which I first heard from Ken Johnson: "Good evening, ladies and gentlemen, and welcome to Evening Concert...."
Other interests took me away from WFDD during my senior year at Wake Forest, by then WFU rather than WFC. I have not lived in North Carolina since graduation, but family connections have brought me and my wife back to the Piedmont many, many times in the intervening years. I never fail to tune in to "the FM radio service of Wake Forest University," and I have listened with pride to the ever-increasing professionalism of the station.
-- Posted 2003
---
Bill Stracener ('66)
I have some vivid memories of my time at WFDD, which ended in 1966 after I served progressively as sports director, news director and station manager. They include:
Celebrity interviews with Arnold Palmer, who was a gracious as one could be to a rookie broadcaster; British humorist Macolm Muggeridge, a master of dry wit; and Jayne Mansfield, who sat across from me and offered breathy responses to my questions while the buxom actress' toy poodle walked between us on the interview table.
Broadcasting direct from the floor of the Baptist State Convention with Gordon Williams on a live remote when the school was negotiating some thorny issues with the denomination.
Driving on campus with Charlie Williams on Nov. 22, 1963, and hearing on a commercial radio station that President John F. Kennedy had been shot. Both of us went straight to the WFDD studios and signed on the station three hours early to provide network coverage from Mutual News the rest of the day.
Serving as the engineer for the Wake Forest Basketball Network when Pat Williams provided the play-by-play.
While working at WFDD, I learned a lot about writing, editing and interviewing and had the opportunity to meet a lot of interesting, informative and influential people from diverse backgrounds. I subsequently put those skills to work innumerable times over the years as a reporter for UPI and The Associated Press and as the managing editor of The Beaufort Gazette before utilizing them as well as a public relations consultant.
-- Posted July 21, 2007
---
Beverly Beal ('68)
Senior Resident Superior Court Judge, State of North Carolina
I played many roles - board operator, Deaconlight Serenade host, News Director, Sports Production Director, and teaching assistant. Upon graduation I was drafted. I enlisted in the U.S. Army chose the Military Occupational Specialty of "Public Information Specialist." I created and produced touring Army public information exhibits. I wrote for the audio medium, produced radio public service announcements, engineered sound tracts for slide shows, and supervised fabrication of exhibits. I was called upon to give briefings to the Army Chief of Staff and the Under Secretary of the Army.
My WFDD experiences enhanced my writing and oral presentations. After the Army I returned to Wake Forest Law School. Public speaking abilities were important during my sixteen years as a trial lawyer. I am now a trial judge. A significant aspect of my work is understanding and applying the concepts of writing and speaking for the ear, rather than the eye. Choice of vocabulary, vocal emphasis, inflection and intonation are important. Wake Forest radio gave me training and experience which I value greatly to this day.
-- Posted 2003
---
Ken Johnson ('68)
---
Frank Donaldson ('69)